2023 Program
Saturday, Aug. 5 - Sunday, Aug. 13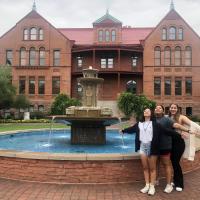 During Early Start, you can expect to be busy each day throughout the entirety of the program. And we promise — you won't be sitting and falling asleep in a classroom all day!
Meet your advisors and other university experts to learn about courses, majors and career paths, plus other tools to maximize your ASU experience.
Learn about your Anthropology and Global Health courses, available internships, study abroad opportunities, career paths and more.
Get a sneak peak of campus facilities and classrooms, and find cool spots to study, eat or hang out with friends.
Explore campus and the surrounding area so you know how to get around before classes begin. 
Engage with scholars from the School of Human Evolution and Social Change and our many affiliated research centers.
Global Health students will have the opportunity to meet with their faculty you'll be studying with and get a tour of our labs.
Anthropology students will meet their faculty and visit the Phoenix Zoo to learn about primate behavior, as well as local archaeological sites and ASU's anthropological collections. 
All meals included.
Our Early Start team
During Early Start, you'll work with dedicated faculty members and advisors who are eager to help you succeed at ASU. You'll get to know your professors and mentors on a personal and professional level so you'll be more confident asking for help during the school year.
Rhian Stotts
Lecturer
School of Human Evolution and Social Change
Carita Harrell
Assistant Director of Academic Services
School of Human Evolution and Social Change
Join us
Participation in the School of Human Evolution Early Start program is by special invitation only.