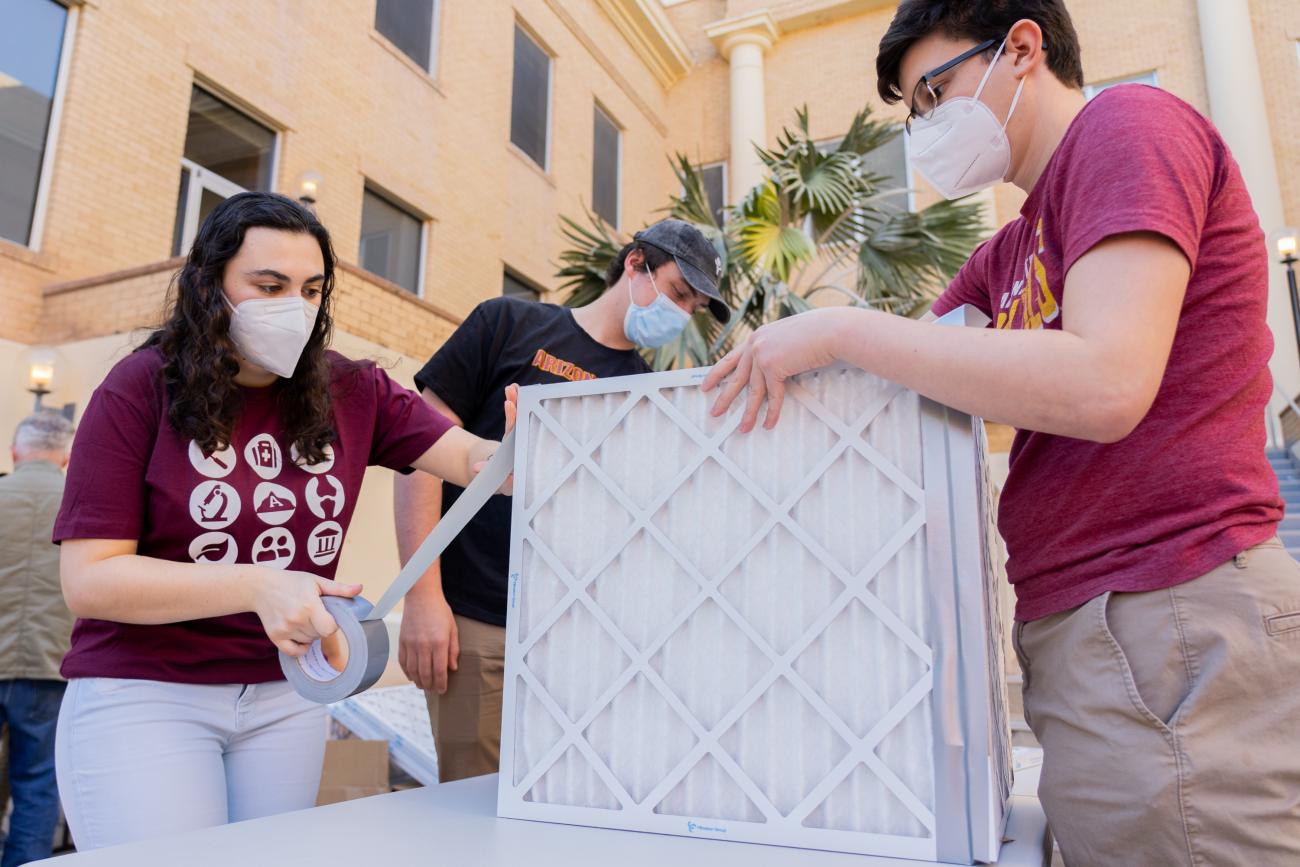 ASU's Clean Indoor Air Project
Bringing cleaner air into Arizona classrooms. Building, studying and deploying units to communities in need.
Volunteers help bring clean air to Valley schools
Classroom Filters vs. COVID from ASU News on Vimeo.
ASU's Clean Indoor Air Project is a public health initiative to bring cleaner air into Arizona classrooms. We aim to increase awareness about the importance of indoor air quality and help every classroom have access to a portable air cleaner to remove airborne viruses, wildfire smoke, allergens and air pollution.
Initiative's Specific Aims:
1. Expand access to indoor air cleaners and air quality monitoring devices in K-12 classrooms
across Arizona.
2. Engage community members to increase awareness, commitment and participation in
improving indoor air quality and health outcomes.
3. Evaluate the effectiveness of DIY air cleaners in under-ventilated K-12 classrooms.
Volunteers help bring clean air to Valley schools to combat airborne viruses and pollutants. Investments in air filtration and ventilation can reduce student absences due to illness – both during a pandemic and in more normal times. Everyone benefits from cleaner indoor air. Improving indoor air in classrooms has many demonstrated benefits including reducing the risk of getting the flu and the common cold, fewer absences for students and staff, increased concentration, and better overall health outcomes.

The ASU Applied Infectious Disease Epidemiology (AIDE) team led by infectious disease epidemiologist Associate Professor Megan Jehn, identified an innovative DIY solution to clean indoor air (using four filters and a box fan) called the Corsi-Rosenthal (CR) box. The Team tested and deployed this solution across Arizona to slow COVID-19 transmission.

CR boxes have been shown to work as effectively as portable commercial HEPA filters at a fraction of the cost. These units improve indoor air quality and reduce exposure to virus particles by increasing indoor air filtration and ventilation. This simple hands-on public health intervention has an immediate impact on the health of our local community.

ASU's Clean Air Student Ambassador Team is partnering with local schools and organizations to help create sustainable change, to improve health outcomes, and to measure the impact of portable air cleaners in classrooms. The team is currently developing K-12 interactive discussion based lesson plans about the importance of indoor air quality. ASU students from diverse fields of study then help lead instruction and facilitate small group DIY Air Cleaner Build events in K-12 schools. Request form coming soon!

You can donate and help bring clean air to schools! Donations are used to purchase supplies to help schools and communities in need across Arizona host DIY Air Cleaner build Events. Classroom build events also provide a unique opportunity for K-12 students to participate in a hands-on STEAM project that benefits public health.

Testimonials from Arizona 5th grade students
"You guys are fun and smart"
"I can't wait to go to college"
"Thanks for helping me with the math"
"Thanks for teaching me how to make a difference!"
Watch and share the ASU's Clean Indoor Air Team's "How to Build a DIY Air Cleaner" video
Become a "Clean Air Classroom" sponsor:
Host a Box-a-thon event **Coming Soon!**
Our DIY C-R Box Student Ambassador Program connects your school and community with an ASU C-R Box Ambassador who helps you lead your own C-R event. The DIY C-R Box event is a great hands-on STEM project for students in elementary school and beyond. If you are interested in this program email asupublichealth@gmail.com or you can fill out this form.
Box Tracker
View the map below to find where ASU donated C-R box units are throughout Arizona.